Our response to the climate and environmental crisis
Climate and Environmental Emergency Recognition Statement

On the basis that:
The world is facing a severe crisis of environmental degradation and climate change that affects our ability to sustain human civilisation in its present form;
The main cause of the crisis is human activity;
The crisis is inextricably linked to global injustices and inequality;
The crisis indicates a failure of human beings to follow God's mandate to care for the world and to seek justice among its peoples.
We, the trustees of Lindisfarne College of Theology, publicly recognise a Climate and Environmental Emergency, and commit ourselves to:
Examining our lives individually and corporately in relation to this crisis, and seeking to live faithfully to God;
Bringing forward by July 2022, an action plan towards reducing LCT's emissions to net zero by 2030;
Encouraging our members to make relevant lifestyle changes appropriate to their circumstances;
Encouraging action on this emergency in our communities, workplaces and other spheres of activity;
Using whatever influence we may have to bring about positive actions by local and national government and by corporations.
Environmental Policy
Our Environmental Policy has been prepared in response to the commitment by the Church of England to reach carbon net zero by 2030 and in response to the ongoing climate and environmental crisis. Lindisfarne is committed to practices that promote environmental and social justice and will take environmental concerns into account in all aspects of Lindisfarne's life and community including its teaching, worship, administration and communal activities.
Environmental Response Group
Lindisfarne's Environmental Response Group consists of staff members, tutors, students, trustees and alumni.
Terms of Reference
The group aims to help the College to put into practice the commitments its Board of Trustees made in recognising climate emergency. Therefore the agenda for the group is taken from that recognition.
The group will make recommendations to the College and seek to involve students, staff and other stakeholders as appropriate.
We recognise that it is likely most of the group's work will involve curriculum, community life and formational concerns since most of the physical infrastructure is owned by other bodies.
If you would like to be involved with the work of the Environmental Response Group, please email environment@lindisfarnect.org
A Rocha UK Eco Church Award
Lindisfarne has been awarded a Silver Eco Church Award from A Rocha UK and is working towards a Gold Award.  Lindisfarne is the first non-residential Theological Educational Institute to achieve this award!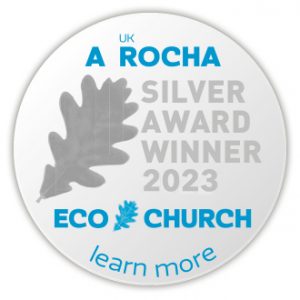 Environmental Theology
Interested in learning more? Lindisfarne offers a five-week course in Environmental Theology.
Why do we value what we do, and what do our values have to do with our relationship to God? How is our theology manifested in our actions – which is to say, how does our theology affect the world, both near and far? And how does the world affect our theology?
In Lindisfarne's Environmental Theology course, these reflective questions will be framed by a variety of readings and multiple approaches to environmental issues. We will spend time with theologians from the Global South and the majority world; readings of feminist, liberation, and eco-theologies; and will also draw on Biblical scholars and historical theologians to explore traditional Christian understanding of the relationship between human and non-human creation. This course will challenge students to think about their environmental theology: how does our relationship to God shape our relationship to that which surrounds us? How do our environments shape our relationship to God?
Read more about the Environmental Theology Course here.
Dates for the next course will be available soon. For more information or to register your interest, email admin@lindisfarnect.org